Welcome to Simsol's Support Center!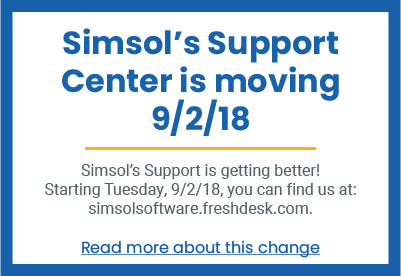 Simsol Support is excited to introduce the new Simsol Support Center. The new Support Center provides all users of Simsol with free searchable guides and tutorials of various components of Simsol Products, a Community Forum and a place to submit tickets to our team. This portal will be updated continuously with self-help articles and solutions to trending issues users face. Check it out by going to simsolsoftware.freshdesk.com!
Join a Session
Sometimes our support team needs to see problems first hand to help you resolve them. If a member of our support team has directed you to this page, use the button below to join the meeting that's been setup for you
Legal Statement: It is your responsibility to research the accuracy, completeness, and usefulness of all opinions, services, and other information found on these sites. Simsol assumes no responsibility or liability for any consequence resulting directly or indirectly any action or inaction you take based on or made in reliance on the information, services, or material on any of Simsol websites or resources.